These are the last pictures we took of Zoë. They were taken on Jan. 19 and 20. I downloaded them from the camera weeks ago, but just hadn't gotten around to adding them. I'll move them to the gallery in a few days.
When Shannon started cleaning her mouth with that bit of gauze dampened with sterile water, she tried to suck on it (I went and bought her a NICU pacifier the next day, but it wouldn't fit between the sides of the logan's bow holding her breathing tube so she never got to try it). Her O2 stats went up and her heart rate leveled off nicely. She may have fussed when others "messed" with her, but not when her Daddy did. Then, when he wrapped his hand around her whole torso…that came in a close second to the effect of my holding her. All of her alarms stopped going off, she closed her eyes and went right to sleep. She loved having him around. Even the sound of his voice had a calming effect on her.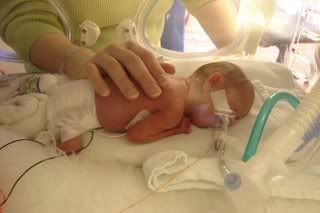 That's my mama's hand on my back

Daddy's hand is big and strong and safe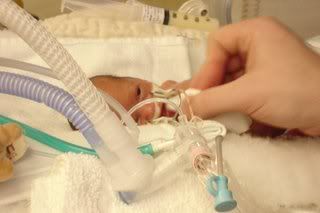 I can almost see you!
del.icio.us this!